Our New Victorville Location
This new facility, formerly Bobís Driveline Service, will fill a gap in our Southern California coverage by serving the high desert communities of Adelanto, Hesperia, Barstow, Phelan, Baker and the eastern Antelope Valley.
While Franklin Truck Parts has not traditionally been involved with drivelines and driveline parts, with the acquisition of this existing location and equipment we will be making and supplying drivelines and related parts. Several experienced and long time employees of Bobís will be staying on to oversee this operation.
If we can be of service, call or stop by. Kevin Lorette is the manager or the store and will be happy to take care of your heavy duty parts needs. Kevin has been employed at Franklin Truck Parts for many years in a supervisory position and has been in the heavy duty parts industry for over 25 years.

Kevin Lorette: Manager
Kevin@franklintruckparts.com


14215 Palmdale Road
Victorville, CA 92392-2631
Phone 760-241-7232 Fax 760-241-1900

Located 1.7 miles West of I-15 on Palmdale Road (CA-18).

From the South; Exit Palmdale Road / Mariposa turn left go approximately 1 ½ mile to Franklin Truck Parts, Inc.. We are on the left side of the road.
From the North; Exit Palmdale Road, turn right go approximately 1 ½ mile to Franklin Truck Parts, Inc.. We are on the left side of the road.
From the West; From the junction of US 395 and CA 18 go approximately 2 ½ mile to Franklin Truck Parts. We are on the right side of the road.
&nbsp


&nbsp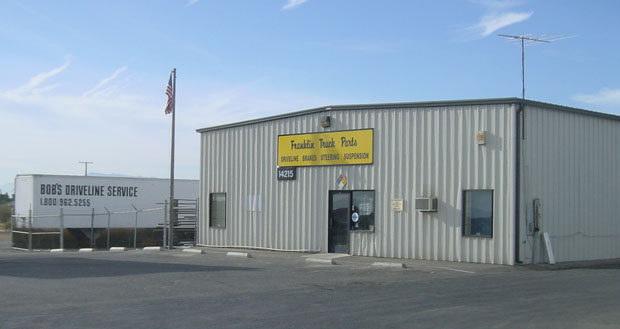 STORE HOURS:
Monday - Friday 8:00 AM - 5:00 PM
Saturdays 9:00 AM - 2:00 PM
| Franklin Home | Contact Us | Manufacturer's Links | Related Links |
| About Us | Suggestions | Order |